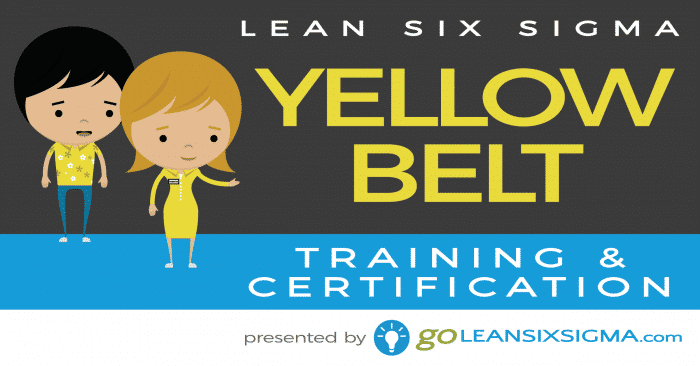 Our Lean Six Sigma Training will help you understand what Lean Six Sigma is and how it works so you can begin improving processes right away.
Pre-Requisite: None
Training & Certification (includes PDF certificate)
8 hours, self-paced, completely online
Accessible on computers, tablets and smartphones
Globally recognized (8 PDUs)
Yellow Belt Training includes:
What Lean Six Sigma is
Why organizations use Lean Six Sigma
How Lean Six Sigma works (DMAIC Methodology)
Yellow Belt Certification includes:
Exam: 50 multiple choice Questions (unlimited re-takes)
PDF Certificate to add to your LinkedIn profile
Free Membership to our Yellow Belt Certified Group on LinkedIn
LSSYB Training & Certification – Course Outline
Here's what you'll learn in GoLeanSixSigma.com's Yellow Belt course.
Introduction to Lean Six Sigma
What is Lean Six Sigma?
Where did it originate?
Why is it so effective and popular?
Yellow Belt
Green Belt
Black Belt
Master Black Belt
Champion
Defects
Overproduction
Waiting
Non-Utilized Employees
Transportation
Inventory
Motion
Extra Processing
DMAIC Overview
Define Phase – Define the problem.

Project Charter (Tool)
Defining Value: Voice of the Customer (VOC) (Tool)
High Level Process Map: SIPOC (Tool)

Measure Phase – Quantify the problem.

Selecting Measures
Data Collection Planning
Operational Definitions
Capturing Baseline Data

Analyze Phase – Identify the cause of the problem.

Process Analysis
The 5 Whys and the Fishbone Diagram (Tool)
Pareto Charts (Tool)
Develop a Hypothesis

Improve Phase – Implement and verify the solution.

Optimize Flow
Mistake-Proofing: Poka-yoke (Tool)
Visual Management and 5S

Control Phase – Maintain the solution.

Process Control Plan (Tool)
Monitoring and Response Plan (Tool)
Documentation and Storyboard